James Bronnley is a traditional grooming line dating back to 1884, when soap maker Jimmy Bronnley set out to create the perfect soap. Though not as well known as other English purveyors of toiletries for men, Bronnley bears a Royal Warrant and produces a fine line of traditional shaving supplies.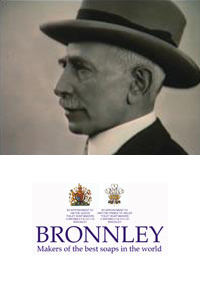 Mike Sandoval of Shaving 101 characterizes the line's signature aroma as…
…a classic citrus scent described as a blend of Seville Oranges and Bergamot with a base of herbs, spices, cedar, and oak moss.  The fragrance is very consistent among the (…) products in the men's line and a welcome departure from the usual lime, sandalwood, rose, etc. offerings from other shaving manufacturers. The fragrance of the shaving cream is well balanced and I found it to be very pleasant.
James Bronnley continues to produce fine toiletries using traditional methods, in the heart of the English countryside. Discover its superior quality, derived from natural ingredients sourced from around the world.