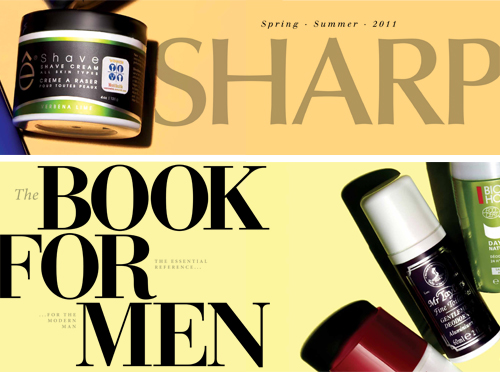 SHARP Magazine For Men's Spring/Summer 2011 Book For Men is out. A 214-page compendium with essential man knowledge on grooming, leather goods, shoes, watches, electronics, fashion, travel, alcohol, and automobiles.
Fendrihan's products are featured in the editorial "Maintenance". Alex Grigorescu writes of the new eShave award-winning verbena lime shaving cream:
There's a new luxury shaving player on the scene: eShave has collected accolades for its rich-lathering shaving cream, featuring the refreshing scent of Verbena Lime.
Mr. Taylor Deodorant's royal origins and exclusive fragrance are also worthy of note:
Taylor of Old Bond St. was established in 1854 and catered to the royal court, but deigns to bring its pedigree to your 21st-century underarms. Its fragrances are distinguished, distinctive and old-school masculine, ranging from top notes of sandalwood to the cheekily named "Mr. Taylor"—a herbaceous mix of lavender and musky cedar.