The strong, rugged "man's man" of yesterday is giving way to a more modern, more appearance-oriented contemporary. At least, American personal-care e-commerce company, Birchbox, hopes so. Birchbox is launching a new lifestyle and grooming product directed at men, which it hopes will resonate with guys who take an interest in personal appearance, skin and hair health, and other issues typically eschewed by the macho man of the past.
Birchbox's latest roll-out is called, appropriately, Birchbox Man. Men purchase a $20 per month subscription (available only in the United States), and in return Birchbox ships them a box filled with gels, lotions, scents, and gadgets. It is a way for men to experiment with variety of personal care products and devices without having to go shopping for them.
An article from Business Insider.com quotes Birchbox co-founder Katia Beauchamp, who said, "There aren't as many places for men to go and learn about products… Men might not be willing to talk about the best exfoliator they use and we want to make Birchbox a place where they're comfortable."
It is an interesting idea, and it is easy to see the appeal. A lot of men are reluctant to be seen strolling around in what is traditionally considered a woman's area of the shopping mall. And with that being the case, it is difficult for men to learn about products that could enhance their appearance, their health, and the way they feel about themselves, even men who are predisposed to such things.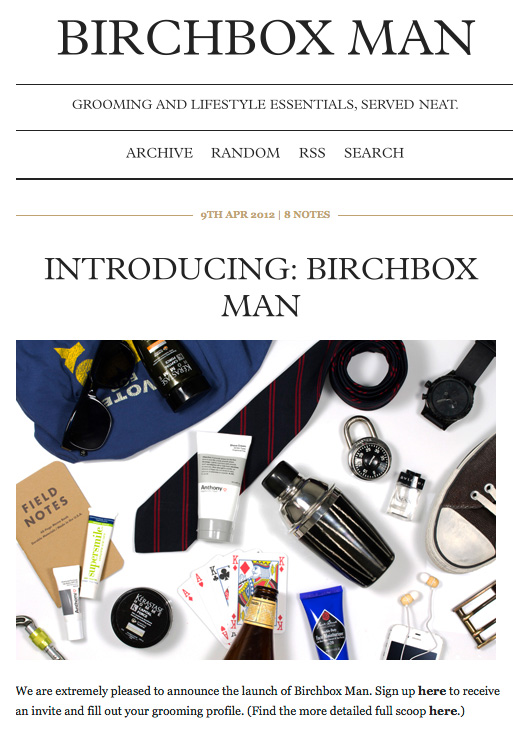 And apparently the service is resonating with men. The article states that "thousands of men have signed up to see what Birchbox is launching for them."
While some of the products offered are not traditionally considered masculine, others can be seen as very attractive to men. Face and body wash, skin moisturizer, soothing lotions and amino acid shampoos are some of the more "metrosexual" products for men that Birchbox is bundling. But Birchbox Man also includes such things as hair trimmers, blowers, and other electrical gadgets likely to appeal to men.
So, clearly it is a new day. The "ding-dong" at the front door may no longer be the Avon Lady. Now it's the Marlboro Man calling.