If you've ever visited a department store, you know that the fedoras on hand these days are a far cry from the well made pieces your grandfather wore. Glued-on bands, limited style and color options, and worst of all, "trendy" patterned fabrics have led plenty of guys to think fedoras are nothing more than costume pieces. But not you. You love the way a fedora covers your head in effortless classiness. One man stands between you and the style apocalypse. His name is Stephen Temkin, the man behind Leon Drexler Handcrafted Fedoras, Toronto.
One look at his portfolio is like a history lesson, the kind that's actually interesting to read. You'll be surprised at how many different kinds of fedora are out there. Along with an example of each style, he gives a well researched explanation of its origin. It's worth visiting just for the education.
And Temkin definitely knows his stuff. A writer and designer, he spent years researching the well made hats he saw in old photos and illustrations. He makes each hat with the artistry that comes from knowing the original specifications, the way they did long before the invention of poly-blends.
In fact, the only material Temkin uses for his designs is beaver felt, a distinctly Canadian material, and the hat fabric of choice for everyone from Napoleon to Frank Sinatra. It's light, wears well, and has a smooth hand. Pretty much the fedora gold standard. A couple of other things to look for in a Leon Drexler hat: a sheepskin leather hatband and pure silk lining.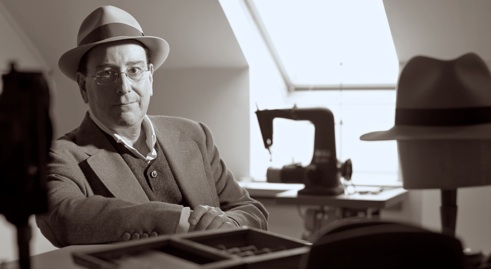 So this is definitely luxury. For this price, you wouldn't want to order on a whim. If you're in Toronto, looking for an heirloom quality wardrobe piece, however, you might want to consider it. Since every hat is made to order, there's a lot of room for interpretation. If you did decide to get a hat from Drexler, he would work closely with you to create something unique to your personal style, whatever that is. No hipster hate here.
It's refreshing to see someone in Toronto working a lost trade out of pure love for the art. The kind of guy who personally crafts an object from beginning to end. It's the sort of thing that people who love fedoras can't help but appreciate — an old fashioned classic that looks great.