Luminous colors: glowing bronze, richly wine-hued purples deepening into softly silky sable and obsidian. The stunning natural palette of the Colorado Rockies inspires a rugged yet elegant collection of fine leather accessories for discerning men everywhere from Golden Head, German leather-crafting artists and experts. Distinctively grained and precisely designed, the Colorado Collection creates a connection between the untamed beauty of the wide open spaces and precipitous heights of the Rockies and the luscious and lithesome leathers of Golden Head.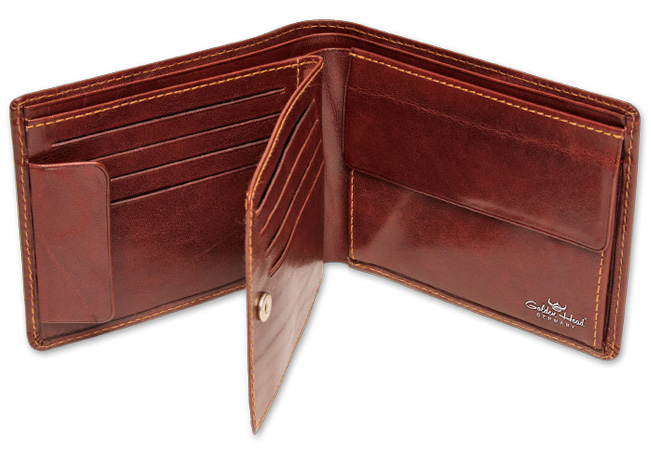 Offered in a warm, burnished bronze tobacco, a delicious, decadent Bordeaux, and a ravishing, resplendent raven, the Colorado Collection leathers are easy on the eye and soft and responsive in the hand. Only selected hides from the uniquely textured neck and shoulders of Italian cows are fashioned into these premium accessories, every piece permitting the leather to tell the story of the noble creature that gave its all for such a splendid treasure.
Respectful of the source and the tradition and artistry of the crafters of the leather, the wide array of options from the Colorado Collection combines great aesthetics with perfect practicality. Each wallet, billfold or money clip performs its function precisely and thoroughly, assisting the man of today with cash and credit management sensibly and sensuously. Organizational tools such as key and business card holders and opulently outfitted personal-care sets are available in the same gorgeous leathers and colors, indispensable accessory coordination for the man who demands and deserves the best.
The leather expertise of Golden Head dates from its inception in 1979, yet also reaches back much further to encompass centuries of German leather-crafting. Tanning of the carefully sourced hides is a special, vegetable-based process, completed by hand with unsurpassed skill and hard-earned expertise. Every quality accessory is made of hand-dyed leather, with fifty individual pieces of premium leather joined together through fifty individual steps, completed only by those who truly love working with this most ancient of materials. When a fine leather accessory from Golden Head becomes a man's companion, a bond that can bridge decades is begun, and the man and the leather gracefully grow better together.
No more appropriate commitment can be made for or by the man of distinction than a fine leather accessory from Golden Head. The Colorado Collection reaches across hemispheres to infuse cultured and refined Old-World tradition with the ambiance of the bold and majestic New-World wilderness. Strike out on your own journey to the rarified air of Colorado by Golden Head, holding appreciatively in your hand the finest small leathers the world has to offer.