Mühle-Pinsel is celebrating its 65th year of operations. Run by the grandchildren of founder Otto Müller, the brand is recognized by its iconic mill; or Mühle, in German, the place where a Müller, or miller, works.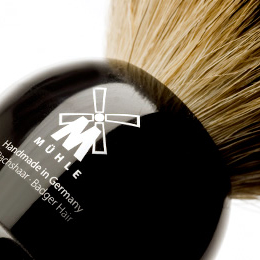 The house of Mühle excels at bringing together tradition and cutting-edge technology to a carefully designed product line. The Mühle offering has sure evolved and the company has prospered since the first bristle brushes were produced in a wash-house and loaded on to horse carts, shortly before the end of the Second World War. The company is one of the few worldwide producers of complete shaving lines, and their trendsetting design is young and contemporary.
Find Mühle shaving sets, mugs and razors at Fendrihan.