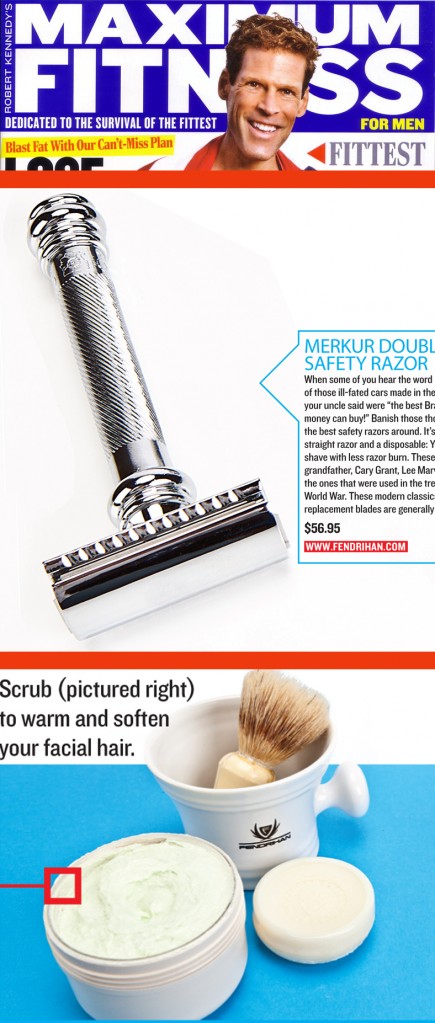 Maximum Fitness is a self-described no B.S. essential guide to fitness and health for the busy man. Besides in-depth workout advice, they routinely cover topics such as fitness, health, nutrition, weight loss, supplements, sex and training tips and tricks.
Fendrihan's shaving and grooming products recently made it to this fit magazine's pages. Our Merkur Double-Edge Safety Razors were reviewed in their "Get Your Gear On" section as one of the ways to get the best shave. MaxFit considered them one of the best safety razors around:

"It's the ideal midpoint between a straight razor and a disposable: You get a close, comfortable shave with less razor burn. These are the razors that your grandfather, Cary Grant, Lee Marvin and John Wayne used—the ones that were used in the trenches during the Second World War. These modern classics cost a little more initially, but replacement blades are generally cheaper than disposables."
As for their tips for the perfect old-fashioned shave, their emphasis is on technique, but not without these three essentials: a safety razor; a pot of high-end British shaving cream, such as Geo F Trumper's; and a proper badger-hair brush. And don't forget to follow the perfect shave with a non-alcohol-based moisturizer; their recommendation, Geo F Trumper's Skin Food.