"My heart is too full for me to say more to you today than that I will always work, as my father did throughout his reign, to uphold constitutional government and to advance the happiness and prosperity of my people, spread as they are the world over."
Noble words from a young woman, called to an ancient throne in 1952 as a twenty-five-year old. Every Realm of the United Kingdom, as well as the Commonwealth countries, Crown Dependencies and British Overseas Territories, join together over the first weekend of June, 2012, to celebrate Queen Elizabeth II's Diamond Jubilee. A full slate of festivities are planned, from the Epsom Derby on Saturday to the Service of Thanksgiving and Carriage Procession on Tuesday.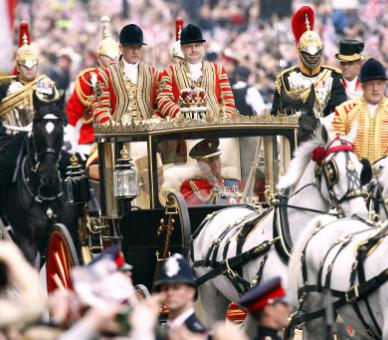 Sunday features The Thames Diamond Jubilee Pageant, an assemblage of 1000 boats, headed by the Royal Barge, cruising the Thames. Monday's highlights are the BBC Concert at Buckingham Palace and the The Queen's Diamond Jubilee Beacons, a world-wide lighting of 2,012 beacons, including a number of them here in Canada.
Six decades after her eloquent words, the Queen continues a life lived to advance the wellbeing of the people of these far-flung locations throughout the world. Still maintaining a rigorous schedule of public appearances in the British Isles and the Commonwealth, Elizabeth II and her family take pride and grave responsibility in touching the lives of those who call her Queen.
The Royal Family issues Warrants to support the incredible talents of selected craftsmen and women in the countries that join in celebrating the Diamond Jubilee.We at Fendrihan invite you to peruse our offerings from G. Ettinger Ltd. makers of fine leather goods, and G. B. Kent & Sons, Plc, artisans of exquisite brushes, both holders of Royal Warrants.