With all the variety we see in pocket knives, deciding which is the right one for you can be a sure headache. Depending on your needs, you may need a multi-purpose knife or a single, trade-specific one. Distinguishing between a cheap and well-made blade can also warrant confusion. Below, we've outlined all the specifics to consider when shopping for your perfect blade.
Fixed Blade vs. Folding Blade
While knives with fixed blades are by and far the strongest, they're not the most compact tools to be carrying around with you. If you're using your knife for heavy-duty work, such as hunting or chopping wood, a fixed blade may be your safest option. Otherwise, a folding blade that locks into place will make do. Statistically, folding knives with built-in locking mechanisms have caused less accidents than those without a lock.
The Difference Between Built-In Locks
The "Lockback": this is one of the earliest built-in lock designs, and it features a notch on the spine of the handle which can be pushed down with your thumb. This lock has proven effective over time, though it doesn't accommodate a one-hand close.
The "Frame-lock": this lock is built so that one side of the frame slides under the open blade, holding it place. This is the best locking mechanism available, and it can be deployed with one-hand.
The "Liner-lock": this lock is similar to the frame-lock, except that only one side of the liner shifts to lock the blade, while the rest of the handle stays in place. The liner lock is very commonplace and also very reliable, yet slightly cheaper than the frame lock.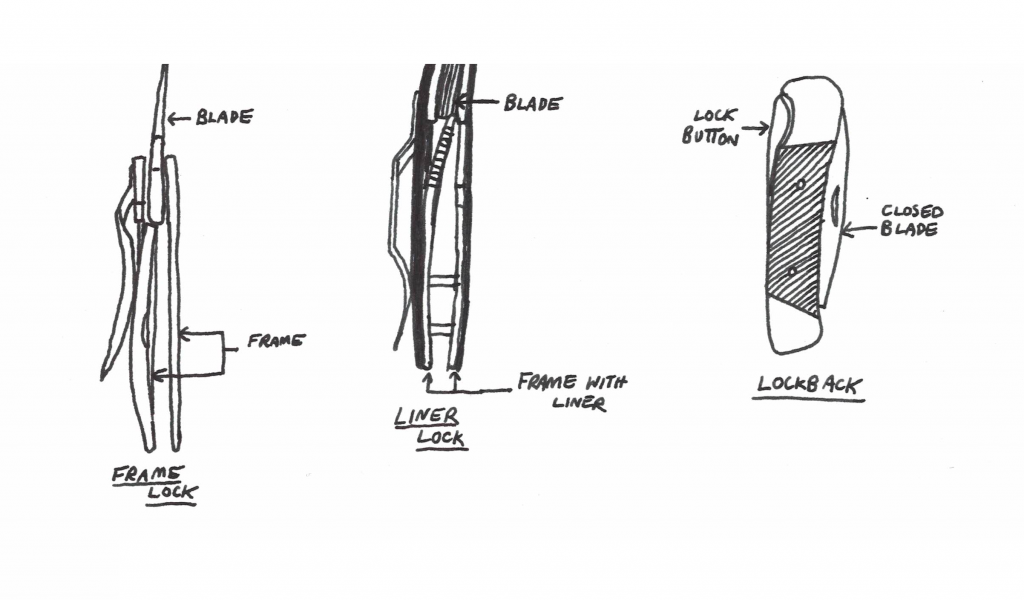 Multi-Purpose vs. Single Function 
If you have no specific use for the knife, then the multi-tool is your best choice. The blades on the multi-tools aren't as high-quality or as easy to open, but if you're not using the knife for a heavy-duty trade, that same blade quality isn't necessary.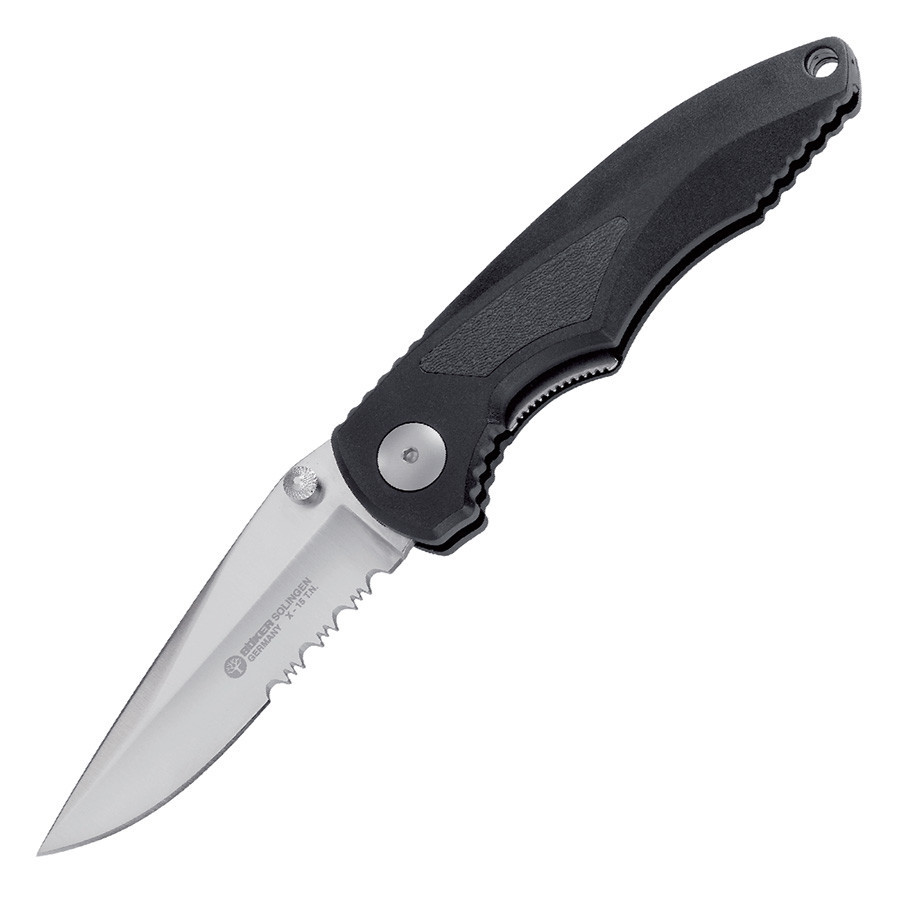 Blade Size 
Generally, a longer blade is more effectual, making stronger cuts, faster. The size categories are as follows:
Small: <2.75"
Medium: 2.75-4"
Large: >4" 
Handle Material 
When it comes to handles, you have one thing to look for: a material that offers a good grip. Some good options include G10, Zytel, and wood. You also want to look for a handle material that has increased grip when wet, since wet conditions are when you'll especially need the good grip.
Plain vs. Serrated Blade Edge 
Overall, plain edges are more versatile, lending you a sharper edge. Serrated edges are good for sawing through cordage or other similar hack cuts.
Blade Composition 
The two main competitors are stainless steel and high carbon steel, both ranking high on toughness, edge retention, and sharpening characteristics. Some high quality examples include VG10, which is easily sharpened and capable of holding an edge, and S30V, which holds a slightly better edge. One thing to mind is whether the knife lists the alloy: if it doesn't, and it simply states "stainless steel" or "surgical steel," it is lower quality, and you shouldn't be paying more than $30.00 for the knife.
Blade Style 
The way the body of the blade is cut affects the kinds of cuts you can make with your knife.
Clip Point: this is a versatile style with an up-swept edge and a strong point, excellent for slicing and penetrating.
Drop Point: this is the most versatile style, which also features an up-swept edge and a strong point, but also tends to be built with either a flat or high grind, which enhances cutting ability.
Pen Knife: this showcases a duller edge with a rectangular body, and it was originally used to sharpen quills.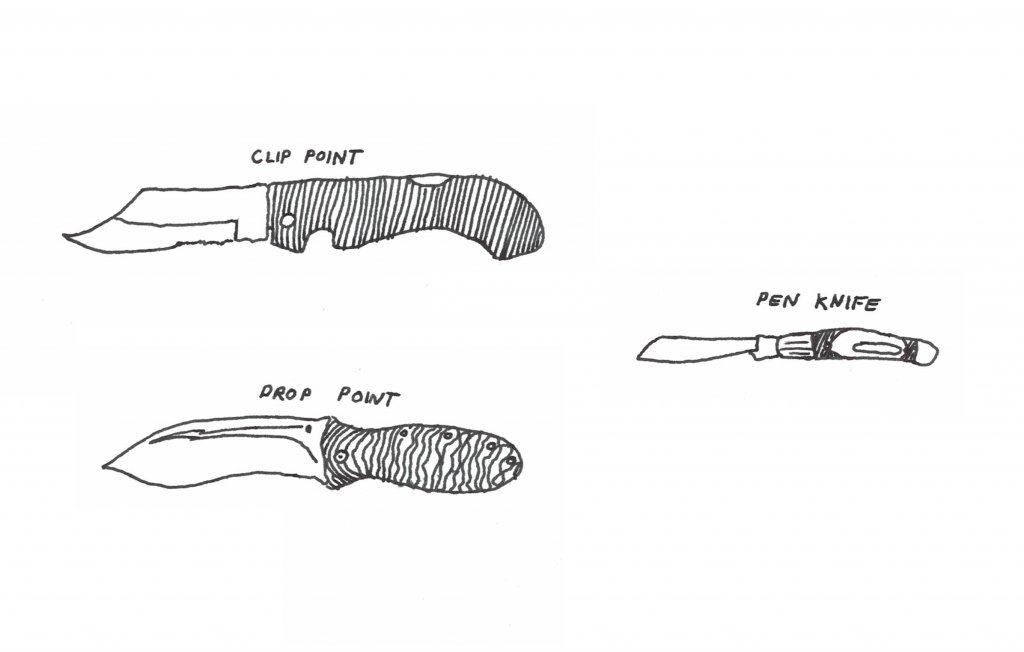 Blade Grind 
The blade grind describes how the blade is honed on each side. All in all, flat grind blades tend to be of the highest quality. Higher end knives often feature a hollow grind, and the cheapest knives will often have a chisel grind.

Blade-Liner Alignment 
If you open your blade, and you can push the blade from side to side, then you shouldn't invest in this knife because it's likely to fall apart. Your blade should be firmly locked into place.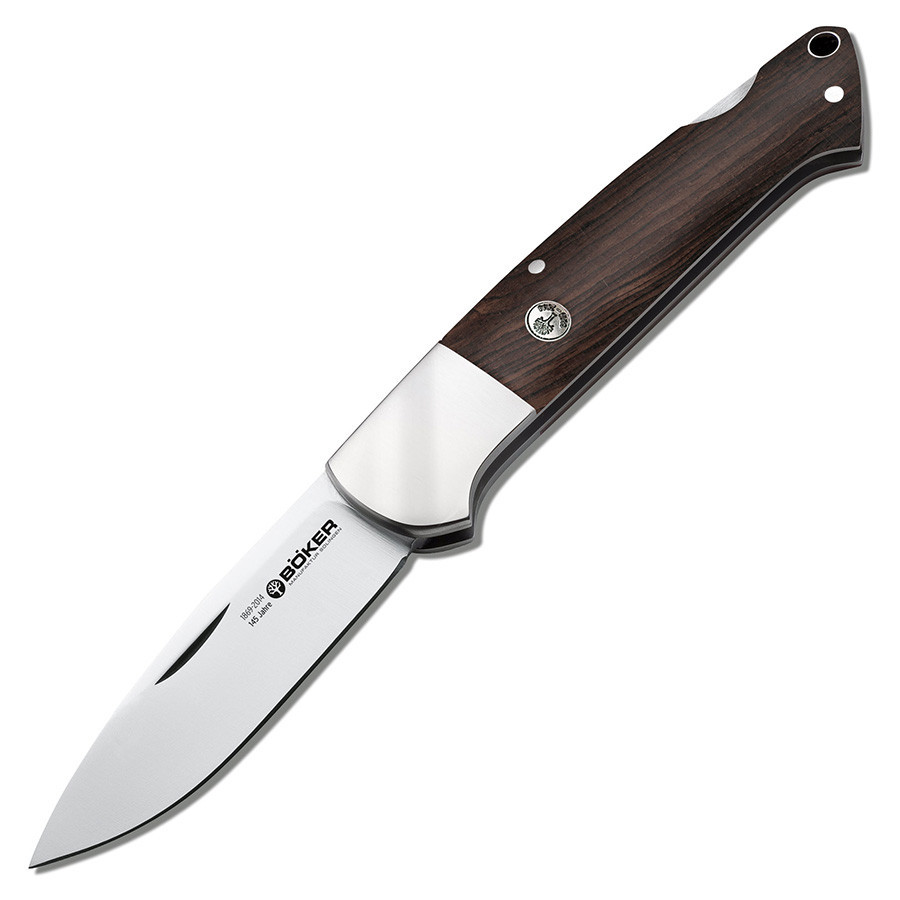 Choosing the right knife doesn't have to be hard, but it can be a process! Don't be afraid to take a few knives out for a spin before settling on one. If the weight feels right, the knife does the job, and it fits in your pocket – it might just be worth the leap!