Bridle leather is made from steer hides that have been painstakingly hand colored with vegetable dyes using waxes and tallow. These environmentally friendly dyes produce rich colors with an even consistency and attractive natural glow. Bridle leather is a heavy leather that is known for its quality. It has a stiff feel when new, but it develops a lovely soft texture with use. With care and maintenance, products made from bridle leather will maintain their durability and bring you years of enjoyment and pleasure.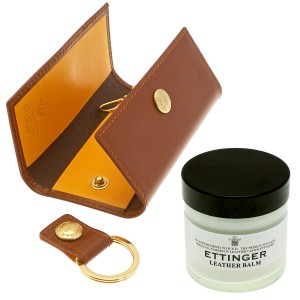 Caring for bridle leather begins with keeping it dry. Getting this leather wet actually causes the natural oils within it to dissipate as the water evaporates. It may sound ironic, but allowing bridle leather to get wet ultimately results in drying it out. If your leather accessory does get wet, avoid the temptation to apply heat to remove the water. Heat will hasten the removal of those natural oils that keep leather soft and supple. Allow the water to evaporate naturally, then you can apply products to restore oils to the leather.
Sometimes you can't avoid getting caught in a rainstorm. Even with the best of intentions, your bridle leather goods may get wet. Fortunately, a little care and attention can restore your wallet, key case, or other leather accessory back to like-new condition. Begin by cleaning the item with a soft, damp cloth to remove any lingering dirt or debris. Then use a dry cloth to rub a small amount of a leather care product into the item, allowing the leather to absorb the product. Remove any extra with your dry cloth. The best products for this purpose contain naturally hydrating elements like beeswax or lanolin. You don't have to wait until your bridle leather gets wet to use this treatment. You can gently rub a product made especially for leather care into your item as soon as it begins feeling dry, hard, or brittle. You will find that your items last for years longer than you might expect with a little care and maintenance.