When you think of the perfect modern man, you might imagine a young professional who rolls out of bed ten minutes before leaving his apartment. He stops into the bathroom only for a moment, running water through his hair stepping in his bathroom quickly to run water through his hair, just to get rid of the bed-head look. But the sooner we do away with this prototypical image, the better; men too have to put solid work into keeping their hair groomed, and there are specific styling tools to help achieve a sleeker, more professional style. The problem is: most men don't know of them. That's why we've set out some tips on how to identify your hair type, and choose the brush that will work best for you.
Some of the best men's hair brushes are handmade in England by Kent, a company that offers specialized brushes for different hair types. G B Kent & Sons Ltd, commonly known as Kent Brushes, have been producing high-quality hair brushes since the 1700s. Today, they offer a total of 250 different brushes for men and women (not only hair brushes and combs, mind you, the are also famous for their shaving and make up brushes). When it comes to brushes for men and women, including a broad selection of combs and shaving brushes.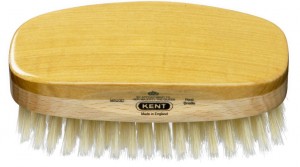 Is Your Hair Receding or Thinning?
Many men are concerned about a receding hairline or thinning hair, and the type of brush used can really impact thickness. While no brush helps your hair re-grow, the wrong brush can exacerbate hair loss. You can start by avoiding brushes with stiff bristles; these can cause serious breakage along the hair shaft. Soft bristles offer a gentle alternative, soothing your scalp while keeping your locks tidy. The Kent MS23 (pictured) was created specifically for thinning hair, and it features a 'soft' label.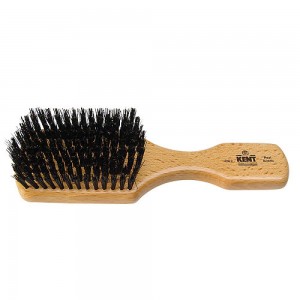 Is Your Hair Thick?
Although thick hair can be challenging to manage, it can be controlled and properly styled with the right brush. Unlike thinning and receding hair, thick hair needs very stiff bristles to keep it in line; the stiff bristles penetrate your thick hair, reaching your scalp to stimulate and distribute natural oils. If you have thick hair, the Kent OG2 (pictured) and the Kent MN11 hair brushes both have the stiff bristles that your hair needs.
Is Your Hair Medium-thickness?
Men with medium-thick hair are very fortunate; they actually have the easiest type of hair to manage. Medium hair does not dry out like some other types of hair, making it easier to manage. Men with this kind of hair can get away with using nearly any type of hair brush; However, they will still see the best results from using a brush tailor-made for their hair. Men with medium hair should use a brush with medium bristles or stiff bristles. Kent produces the MS11 just for this purpose. To maintain healthy medium hair, men should develop a brushing routine on a daily basis. Hair brushing should be a very thorough process that starts at the nape of the neck and extends to the front. While brushing your hair, your head should be angled forward and downward. The movements of the brush should mimic a spa or barbershop head massage. Once you complete thoroughly brushing, you can style your hair.
Do You Have Fine Hair?
Men with fine hair may find styling frustrating. Fine, limp hair always seems to end up in the same style no matter how hard you try to change it. Often, the only way to keep fine hair where you want it and maintain your desired style is by using styling products. Despite its drawbacks, fine hair has some benefits. It is generally shiny and sleek. Men with fine hair should accentuate the positive aspects of their hair by using a hair brush that has soft or medium bristles. If you have fine hair, using the Kent MS23D will give you the most control even if you must keep your hair in place using styling products.
Men, it's time to exercise your right to proper hair care. Now that you know the secret to managing your hair, make sure you get the right brush to take care of business and look your personal best.
"The Man" photo by Jon Åslund on flickr.