Looking at the development of hair grooming since the 1930s, we can conclude that products have significantly multiplied while trends have grown in and out of fashion. A styling trick that the past gentleman taught the modern one is how to be well groomed using hair pomade for men. Iconic personalities like Elvis Presley, Johnny Cash or Brad Pitt are known to have defined their hair styles by using this moisture rich, shine adding formula.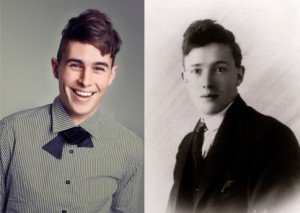 Tracing its origins back to ingredients such as mashed apples, this smoothing cream suited for all hair types has ingredients like soy, paraffin, water or natural oils at base. The soy and paraffin formulas are ideal to define bangs or creating spikes. Men with curly or fine hair prefer the water based blend. The natural oil formula can be used to straighten naturally coarse hair.
Pomade, gel or hair wax?
How does hair pomade compare to wax or gel? Pomade is never as greasy or tacky as the other two, so your hair will not get stiff or sticky. Acting less aggressively than hair wax, it will help when sculpting the most eccentric styles, giving them hold. A high performing product that provides such a long-lasting look may however require multiple shampooing for removal.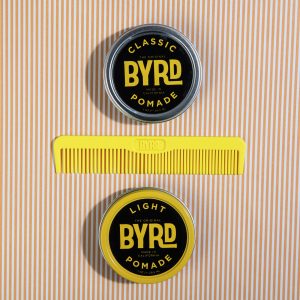 Shop Byrd Pomades
There are two major rules you need to follow for clean, flexible control. It is better to apply the styling product when the hair is dry. If your hair is wet, not only it will dilute the styling paste but it will also decrease its holding power. Secondly, no matter if you are going for the neatly combed or the messy casual look, hair pomade need not be used in excess. To assure yourself of that, rub a small amount in your palm; this will emulsify the product so that it can be easily and evenly dispersed.
Use an innovative product appreciated in the past and the present: hair pomade for men, a sign of the well groomed man.