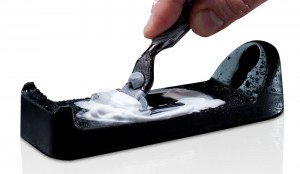 If you are a sophisticated man who appreciates a smooth shave, then you may find yourself wondering how to sharpen razor blades. You may be surprised to learn that some shaving enthusiasts warn that sharpening modern double-edge blades is not recommended, as this causes them to lose their protective titanium or chrome coatings. They claim that these films can also deposit on the sharpening device, ruining it. Fortunately, DE blades are affordable so you will be able to replace them as needed without much expense, and the quality of your shaving experience will benefit from replacing worn or dull blades. Plus, the huge variety of quality razor blades for men available today will enable you to find exactly the right brand to meet your unique needs.
Even though you can't sharpen double-edge blades, you can still take measures to keep razor blades sharp. Since corrosion and dullness are actually caused by moisture, not use, it is important to keep your blades dry. Drying them thoroughly with a hair dryer and storing them in a plastic bag can help them last longer. You can even place the bag in the freezer after ensuring that all the air has been removed from the bag. Never store razor blades in the bathroom; the moist air will hasten corrosion.
Unlike double-edge razor blades, cartridge blades and straight razors can be sharpened. So, if you really want to experiment with shaving tools that you can hone yourself, you may want to explore using straight razor sets for gentlemen in your shaving routine.
Both DE and cartridge blades can also be maintained to extend their useful life by using cleaning/honing devices such as the RazorPit. Honing differs from sharpening in that it doesn't remove the blade's protective coating.