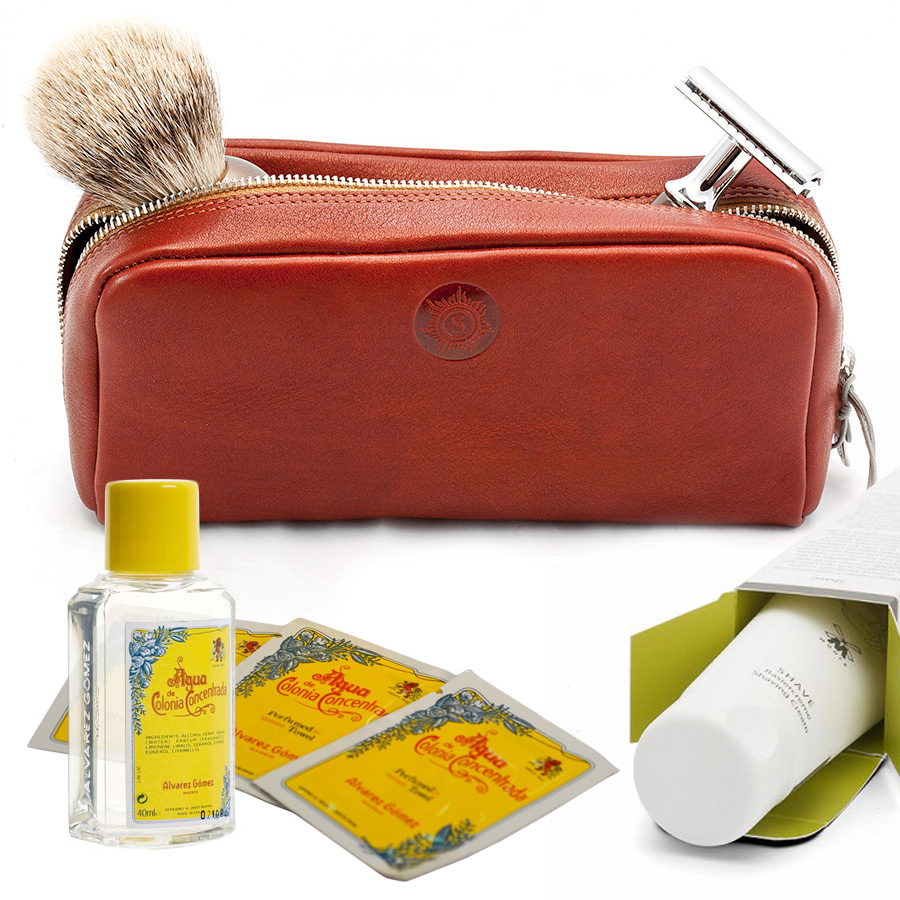 Whether you are traveling for work or for leisure, there are certain men's grooming essentials that should be found in every gentleman's travel toiletry kit. This article shares the most important products that you must always bring in your grooming arsenal to ensure that you will always look like that dashing, debonair gentleman that you are.
Your Travel Shaving Essentials
Shaving is perhaps man's most significant grooming routine. Your face is the first thing that people look at when you meet them and you want your clean-shaven face or beard to be as nice-looking as possible. If you are traveling for longer periods of time, you should bring the most important shaving products from home instead of relying on random products from your hotel or the nearby store that may not be compatible with your skin.
Shaving medium. Be sure to bring the shaving medium of your preference whether that is cream, gel or shaving soap. It is best to avail of travel size shaving cream to avoid bringing bulky containers with you while you travel. Shaving soaps are also convenient as they are small and easily stored in a standard-sized travel shaving kit.
Travel Shaving brush. If you are a wet-shaver, you can't leave your house for longer periods of time without your brush. Be sure to acquire a shaving brush travel tube to safely and conveniently store your brush to avoid it from getting damaged or dirty.
Razors. It is best not to settle for random razors if you are already used to a certain type of razor. Again, it is best to bring your own travel razor and not settle for random toiletry products so don't forget to include these in your travel shaving kit.
Aftershave. No travel shaving kits are fully equipped without some good aftershave. There is nothing more refreshing than a splash of your favorite aftershave. It not just makes you feel great but it also preps your face against environmental conditions you will face throughout the day by disinfecting skin irritations from shaving.
Your travel shaving bag. It is best to acquire some form of toiletry bag where you can safely store all your grooming products. There are many toiletry bags for men available that are designed to hold all your important shaving and grooming products.
There are also several travel shaving kits for men available on the market. This travel shaving set contains all the important shaving essentials in travel size form which can serve as a convenient solution to your shaving routine while away from home. These sets might also come with a travel shaving brush that come with a container to keep them clean and safe.
Other Travel Essentials
Facial cleanser. Just because you are away from home doesn't mean that you don't need to clean your face. Use it in the morning and evening especially if you are traveling to hot places.
Moisturizer. If you are traveling by airplane, be sure to keep your face moisturized. Cabin air dries out your skin dramatically and it's important to keep your face moisturized and protected.
Lip balm. If you are traveling to places with very dry weathers, it is important to bring lip balm especially if you are not used to such weather conditions. Chapped lips can look very unattractive and are a nuisance while eating and drinking.
Sun screen. Always bring sun screen especially if you are traveling to places with hotter climates. If you are not used to the sun, don't get carried away by its cozy warmth and feel. Stay protected from UV rays especially if your skin is not accustomed to strong exposure to the sun.
Cologne. Bring your signature cologne scent with you always. The way you smell says a lot about you as a person and is a great way of making good impressions.
The next time you travel, be sure to make a checklist of these items to ensure that you are prepared to look your best wherever you may go. Whether you are meeting an important business client or touring the world with the love of your life, it always pays to not just look but also feel your best!