Ready, Set, Shave…
Then grow your fiercest 'stache possible.
Ah, Movember: a time to let your man hair down, or more specifically grow out – all for a good cause and to make the Ron Burgundys and Burt Renolds of the world proud. The moustache is to men's health what the pink ribbon is to breast cancer research. Since 2003, millions of people have participated in the movement, raising more than $676 million and funding over 1,000 projects through impact investments, focusing on prostate cancer, testicular cancer, and for men's mental and physical health.
Get involved! Grow the Mo-ther of all moustaches
Men and women are urged to sign up at Movember.com. Guys can grow a moustache and women are welcome to join too – through the MOVE initiative. Through MOVE, everyone can help become men's health champions. It's a 30-day fitness challenge to raise funds and awareness. It doesn't matter what you do, just be active (the office ping-pong table counts too).
According to the Movember Foundation:
1 in 8 Canadian men will be diagnosed with prostate cancer in their lifetime
Testicular cancer is the most common cancer in young Canadian men aged 15-29
1 in 5 of Canadians will experience a mental health problem each year
3 out of 4 deaths by suicide are men
Moving on a regular basis can reduce risk of heart disease, diabetes, and cancer by up to 50%, and lower risk of early death by up to 30%
How to Craft your Stache
Prep Work
To prepare for face for Movember, make sure it's cleansed, toned and moisturize.
Shave, then save
Use a pre-shaving oil to help soften those hairs for removal; it will also nourish your skin. Use your preferred method of shaving soap or shaving cream to remove your old facial hair. Movember rules are hard and fast: you must start with a cleanly shaven face.
Razors that are sharpest produce the best results, whether that's a safety razor or a straight razor: get to work.
Style
Pick a style that suits your face if you plan on sporting it year round (check out the Movember Style Guide) or just grow something that you think will work to spark conversations about Movember, spread awareness and raise some good money for a good cause. We recommend you check out our moustache grooming tools for everything you need to keep things classy, from combs and trimmers to waxes and pomades.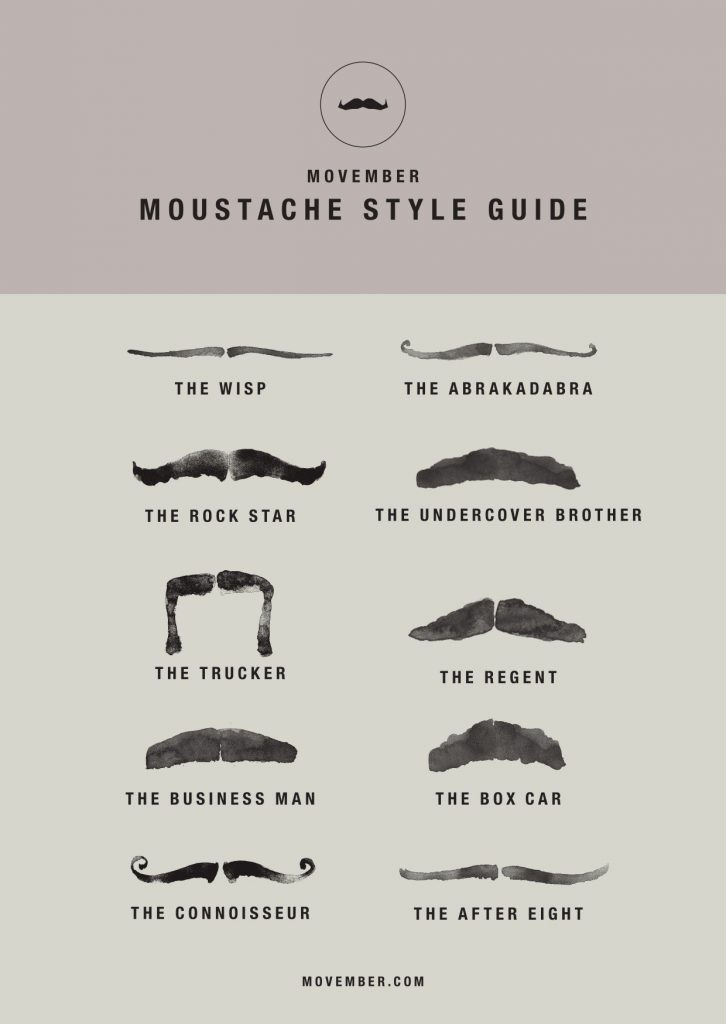 Maintenance
Once your moustache morphs into your preferred style you'll want to keep it neat and tidy. Use a good hair trimmer but always trim when the hair is dry. Cutting wet hair could result in taking too much off, leaving you with a sliver instead of a slug.
Who out there's hankering for a handlebar…?