No summer is complete without a trip to the beach – plane tickets and passport not necessarily required. Canadians (and travellers to Canada) are in luck, because this contains some of the world's most beautiful coastline – and that means more amazing beaches than you can shake a stick at. With more than 2 million lakes and 10 million square kilometers of water, it's a great place to vacation this summer (and don't worry, it doesn't snow all the time).
Our list of the 14 best beach bets should keep you busy until summer ends. But don't forget to check online ahead of time to make sure water levels and water quality.
Ontario's Best
Grand Bend = grossly busy (or is it lively?) but that's half of the fun here. There's 30 km of beach so you can probably snag your own patch of sand in between everyone else here. The North Beach is usually quieter. There are a lot of restaurants, bars and places to stay here to match the varied type of people that visit here. Nightlife is big here. The Grand Bend Main Street is the epicenter of live entertainment.
Camping, cottaging or just hanging for the day. There are two areas: the public area that people just use for the day, or the portion accessed through Long Point Provincial Park. The water is warm and you can fish for your own dinner – some restaurants will cook that locally caught perch you landed earlier in the day. This is the fourth oldest Provincial Park in Ontario (was established in 1921) and it's located within a designated World Biosphere Reserve. The Zodiac boat tour is a rush.
Pinery Provincial Park, Lake Huron

Just south of Grand Bend, Pinery Provincial Park is popular with campers. It's home to the world's third largest active sand dune ecosystem with nearly five miles of beach and three campgrounds. No tent? Try one of the furnished Yurt campsites. Bring the bike: there's a 14-kilometre trail from the Park Store to the traffic circle.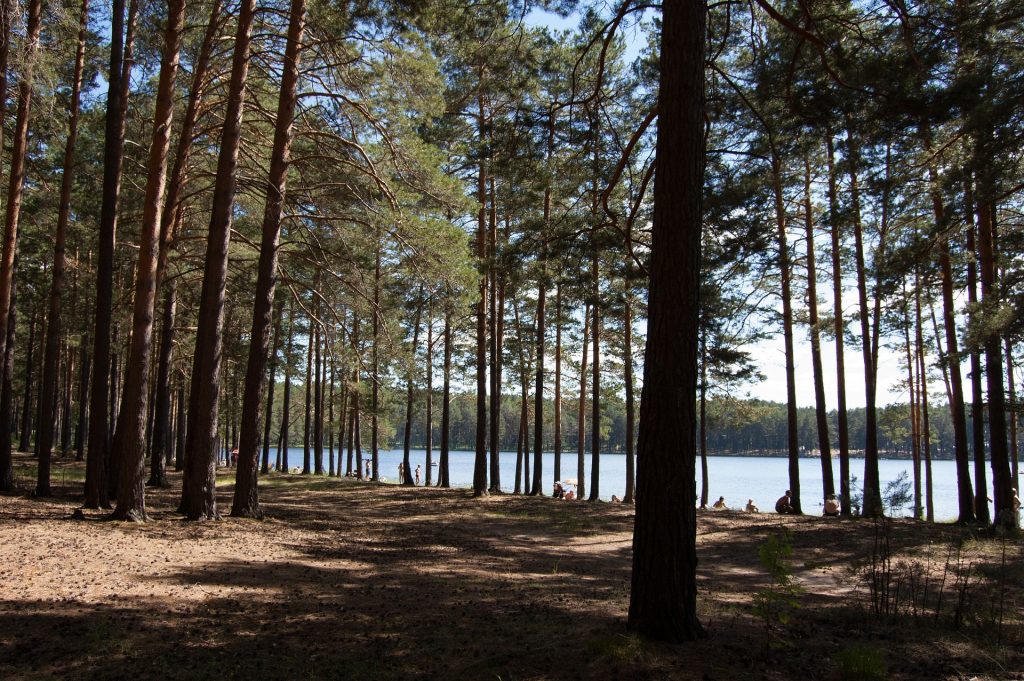 Here on Lake Erie's north shore, it's an urban sand beach with beach volleyball, a boardwalk and BBQs at Pavilion. If you want to overnight it there are some B&Bs, inns and cottages. Fishing, SUP rentals, parasailing, beach volleyball and golf nearby.
Hail the glorious trinity of beaches: Outlet Beach, Sandbanks Beach and Dunes Beach. A lot of visitors say this place ranks up there for being some of the most beautiful scenery in Ontario. There are huge sand dunes to bury your buddies in, but you'd probably rather go scuba diving to see some seriously cool shipwrecks, canoeing, fishing or do the resort thing at Isaiah Tubbs for the weekend.
Sauble Beach is the second longest fresh water beach in the world. It's the definition of a resort community where you'll find 11 km of golden sand, stunning sunsets, a playground, go-karts for 'bigger kids', restaurants fry huts and bars.
Turkey Point Beach, Turkey Point
Cottage or tent? Take your pick. Rent a cottage or camp at Turkey Point Provincial Park (which has 235 campsites). If you don't want to drive around, just get on the Lake Erie Coastal Shuttle Service – plus you'll be able to cram a bunch more sightseeing in. Shuttles cover the 60-kilometer stretch of Lake Erie each weekend, stopping at wineries, beaches, farm markets and other touristy things. There's a nine-hole golf course, and great restaurants. Oh, and did we mention the water's warm?
Another good spot that combines beach and nightlife for those who don't need as much sleep as the rest of the world. Wasaga Beach has 14 km of freshwater beach and pic worthy sunsets. Hit some trails, fit in nine holes of golf, and eat your way through the restaurants, bars and diners.
Across Canada
Grand Beach Provincial Park, MB
Three km of amazing landscapes, with some impressively high dunes (some up to 12 meters tall). There's a boardwalk that runs along the beach, which dates back to the 1930s. Apparently you can go berry picking if you've had too much of the beach itself. Or there's volleyball. For the latter part of the summer, Chokecherries and blueberries will be ripe by August.
Ingonish Beach, Cape Breton Island, NS
There's a unique natural barrier at this beach that separates the salt water from the Atlantic and the fresh water that streams in from rivers on the island. This means when you swim you can either go freshwater or salty. The beach is roomy and the water is warm. A bonus: scenic cruises and whale watching.
People and porpoises like it here. Whales, actually. About 20,000 grey whales migrate here each spring and summer. Go on a whale watching tour to see how many you can spot. This is the longest sandy beach on Vancouver Island (just over 16 km) and great scenery too. Nearby is the Wickaninnish Inn if you want to stay as close as possible to the surf.
Parlee Beach Provincial Park, Shediac, NB
Besides being known as a seafood lover's mecca, Shediac's Parlee Beach overlooks Northumberland Strait, which is what separates New Brunswick and Nova Scotia from PEI. There are 190 campsites and the ultimate roadside attraction is close enough for a drive-by Instagram: the world's largest lobster sculpture. Warm salt water; close to restaurants and other amenities in town.
Sandy Hook, Madalen Island, QC
This place is 'fantastique' (we bet you can translate). There's 12 km of golden sand and some pretty fantastic views of other nearby islands like Entry Island. Get here by plane, cruise from Montreal or ferry from Souris, PEI. This is a popular place for artistic types.
Singing Sands, Basin Head Provincial Park, Souris, PEI
The mystery of this place is in the sand itself: scientists still can't figure out how the strange swishing sound is made when you walk along the sand. Water temps get to about 21 degrees Celsius, The beach is supervised, and there are showers for day-use facilities and the Basin Head Fisheries Museum if you're interested in mariner lore.