Conceived and nurtured in the heart of the Tirol, the refined products of Alt Innsbruck are as fresh and pure as the surrounding snow-capped Alps. Alt Innsbruck's intoxicatingly aromatic fragrance is full with Virginia tobacco, rich and nostalgic and reminiscent of a deep breath of an antique humidor brimming with the finest hand-wrapped cigars. A crisp, yet harmonious, note of icy menthol cools and refreshes, balancing the aroma perfectly.
Available in Pre- and After Shaving Emulsions, Colognes and Aftershaves, this irresistibly manly scent was formulated carefully in the late 1940s and early 1950s by a master Austrian druggist, Franz Gatterer. Herr Gatterer created a rare classic, a bracing measure of cooling menthol followed by the light but authoritative ambiance of the tobacco and its flower. Its two-note fragrance is clear yet complex, lingering yet never cloying.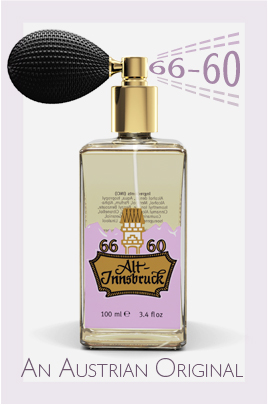 Drawing on his considerable expertise in dermatology, the clever druggist also assured his formula contained only natural and safe ingredients guaranteeing smooth, healthy skin and an elegant look. Preparing the skin with the burst of menthol eliminates the burn of a close shave, replacing any irritation with the cooling of a crystalline mountain spring. Let the Pre-Shaving Emulsion invigorate and relax with its bewitching aroma, giving it a moment to work its enchantment before your shave begins. Comfort and long-lasting fragrance is the purview of Alt Innsbruck After-Shave emulsion, soothing, gentling and smoothing the skin for an enduring manly finish.
Add a last spritz of this magic potion with the quaint yet so-effective atomizer, and savor even the most mundane everyday activities with your heart and mind in a high-mountain meadow. Treat yourself, and that someone special, to a naturally superior skin care experience, with an unexpected scent that assuages a yearning you did not recognize as your own until Alt Innsbruck provided its satisfaction. European elegance that travels well, Alt Innsbruck is appreciated by men of distinction everywhere — and by those who love them.