Although in a state of continual metamorphosis when it comes to their logos, the German company Heinrich L. Thäter never alters its key attribute: the exquisite quality of their products. Encompassing the slogan "Times and Tastes May Change, Yet Quality Always Endures,'' the ultimate shaving-brush crafter Heinrich L. Thäter has put Nürnberg at the center of the wet-shaving map.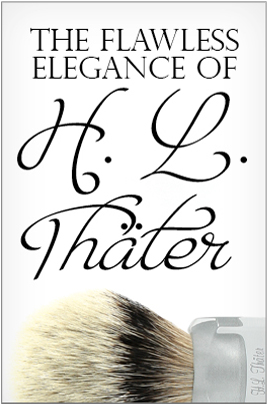 Cherishing the family tradition of "Nothing But The Finest," the artisans at Heinrich L. Thäter maintain the highest standards by using premium materials and proven methods to produce the best shaving brushes possible. In the hands of these masters, the essential wet-shaving tool is transformed into a rare gem: flexible, beautiful and extremely effective.
Since 1913, Heinrich L. Thäter has offered shaving tools that are a step above exceptional. Pride in both appearance and performance is obvious in every facet of the execution of the company's brushes. Small, but handsome, the Thäter pieces range from the 92 mm to 124 mm in overall height. Perfection arrives when 14,000 strands of the most expensive grade of badger hair are carefully shaped by hand.
The soft silver-tips are glorious, and the overstuffed knots well-support these remarkable bristles, providing a most satisfactory feel when lathering. Like a minimalist work of art, the carefully polished handle catches the eye and enhances the impeccable design of the German masterpieces.
These silver-tip badger brushes are known to be denser, softer and more flexible, with better water-retention qualities, than any using boar or horse hair. The decision to use only the most superior grade of rare, natural badger hair is the key to the Thäter quality. Their highly skilled experts shape each brush to ensure a phenomenal flow-through; this fanatical attention to detail explains why a Thäter brush is a synonym for the best quality shaving brush available.
No matter what your aesthetic preference may be, Thäter offers the discerning customer not only a long-lasting and amazingly well-made brush, but also a variety of stunning and alluring handles fashioned of rare and beautiful materials such as ebony and faux tortoise, including  clear or two-tone options. The logo chosen for you will no doubt delight and will definitely surprise. Thäter changes this aspect frequently, all the more to your pleasure in such a unique decoration.
What will never vary, however, is the steadfast Heinrich L. Thäter devotion to enduring quality. An instant heirloom, in careful hands, your Thäter brush will see you through decades of extraordinary grooming. Cultivate well your relationship with this marvel. You will be richly rewarded.