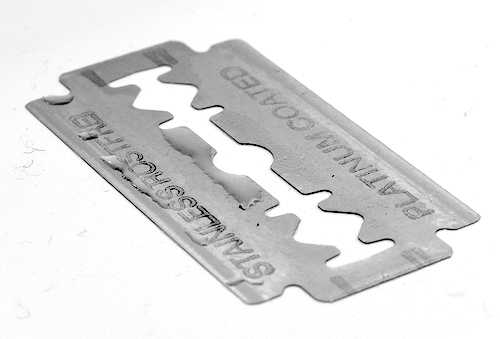 Choosing the best razor blades for men can be complicated. The best razor blades for one man may not be the best choice for another man. The good news is that the vast array of available options means that any man can find the perfect choice with just a little trial and error. For anyone who is uncertain where to begin, blade samplers are the best way to discover which brand suits you best.
There are several manufacturers who are well known for producing exceptional products that are popular among discriminating gentlemen. Here are just a few of the most popular brands.
Feather is a Japanese company whose name is synonymous with quality. They have the distinction of being the sharpest blades on the market. That attribute makes them able to tackle even the thickest beards with relative ease. However, their sharpness makes them less desirable for beginners or men with sensitive skin.
Merkur blades are popular and easy to find. Although they are not highly recommended for gentlemen with coarse beards or thick hair, they work well for men with light or medium beards and normal skin. Unlike Feather, Merkur blades are considered a good choice for beginners.
Wilkinson blades are yet another popular choice. They have been described as consistent and comfortable. They are also widely available and suitable for beginning wet-shavers. One thing that differentiates Wilkinson from other blades is the company's proprietary polymer coating. This coating is designed to minimize friction and create a smoother shaving experience with less irritation than some other blades.
If you are wondering where to buy safety razor blades, there is a simple answer. These are simple to purchase online. For example, Fendrihan has a plentiful selection and they ship directly from their Greater Toronto Area location to anywhere in the world.
For more info see this previous post.