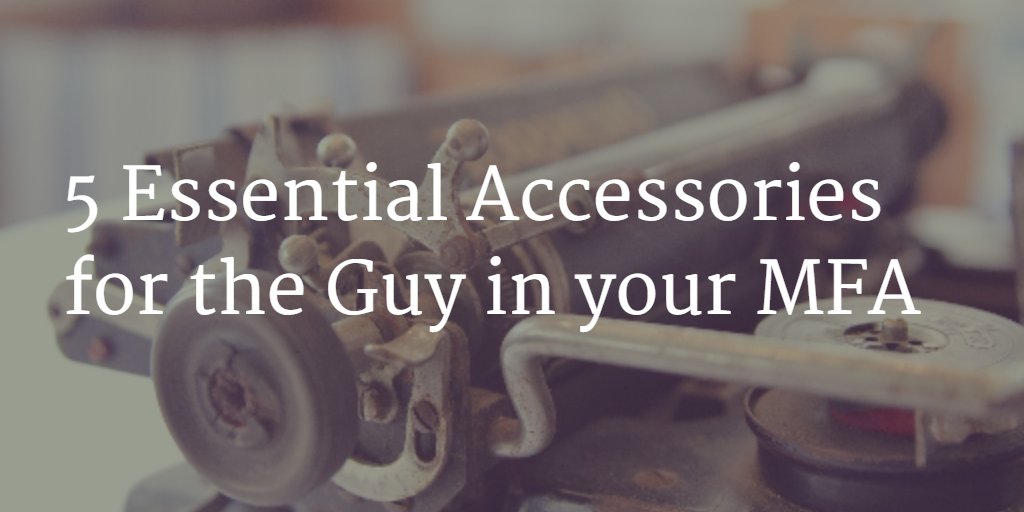 He's only two re-writes away from finishing the great American novel. You've probably heard of him, he's a 20-something in Brooklyn? Wears a funny hat? He was in your MFA.
And sure, he's got a great taste in literature and has become something of a fashion icon for those of us in the hipster camp. But a lot of us are left wondering: how does he do what he does? It can't be easy, working on his writing day-in-and-day-out. What are the little things that help make his trials and tribulations whiz along that much more smoothly?
This burning question led us down a dark and dangerous path, but we've brought back answers into the light. Here are the five essential accessories for the Guy in Your MFA.
The worn leather messenger bag I sling across my back while I bike to workshop? It was my grandfather's.

— Guy In Your MFA (@GuyInYourMFA) August 28, 2015
There's no question that grandpa's leather bag is the comfiest option, but what if your grandfather is unfortunately and irreversibly deceased? Or worse, what if he had the fashion sense of a Dutch llama? Hand-me-downs aren't for everybody, but we're in luck because rustic-looking is even better than rustic-being. That's why this Leonard Heyden Salisbury leather messenger bag is a must-have. It's nobody's grandfather's bag yet, but it could well be, if you ever actually meet a girl who understands your art.
Have I mentioned that the rain is a symbol for baptism?

— Guy In Your MFA (@GuyInYourMFA) January 19, 2015
Rain might be a symbol for baptism, but the drenched look is so 2014. Your antiquesque leather messenger bag is going to be improved by the hardship, but writers, like sugar, have an unfortunate tendency to melt. What's an aspiring author to do? Better balance your bag and body on your bike with the right protection from the unforgiving elements. The Eberhard Gobel pure silk umbrella is just about the handsomest umbrella on the block, and it had a cherrywood shaft before it was cool.
If you're not using a fountain pen in a leather-bound notebook, why bother?

— Guy In Your MFA (@GuyInYourMFA) May 29, 2015
It's hard to argue with a brilliant artist when he's so obviously right, but let's not forget that the wrong fountain pen is almost worse than no pen at all. Your ingenuous ideas deserve something better than a Bic. You'd have to get up pretty early in the morning to use that to beat a sword. No, you're far better off with the Aurora 14k solid gold nib fountain pen by Marcelo Nizzoli. An architect and the designer of the famous Olivetti typewriter, he's a tortured soul after your own heart. There's no doubt his pen's going to feel as natural to you as a sixth finger with a nail of gold.
Sometimes I abandon a full Moleskine in a coffeeshop. I intend to have a tortured romance with the beautiful woman who returns it to me.

— Guy In Your MFA (@GuyInYourMFA) January 18, 2015
 It's no doubt 100% true that Hemingway and Oscar Wilde used Moleskine notebooks, and at times it seems like channelling the greats is the way to get the next chapter of your novel out there. But wait! Imagine if all those ghosts leapt from the page and impregnated your powerful words with their own woefully derivative ways. At least, they'd be derivative if you used them. Better go your own way. The Leuchtturm 1917 Master Academy pad looks just like a Moleskine, but you really can't put a price on telling your friends it's actually not. Roll your eyes, too. Moleskines are so cliche. 
a haiku: the rain, like my soul typewriter ink-stained fingers no one understands. — Guy In Your MFA (@GuyInYourMFA) October 11, 2014
A day spent crafting poems is no easy task, no matter what your mom says. And while those ink stains are badges of courage and perspicacity, you're going to have to wash away the sweat and tears sometime. When you do, would you risk damaging your beautiful, beautiful hands on common linen? Why chance it. Brahms Mount hand towels are spun on an antique 19th century shuttle loom. Maybe even the one your grandfather's hand towels were spun on!
The hardest part of getting through your MFA is accessorizing properly. That's why we're glad we have somewhere to go for the guidance we need. Thanks, Guy in your MFA!