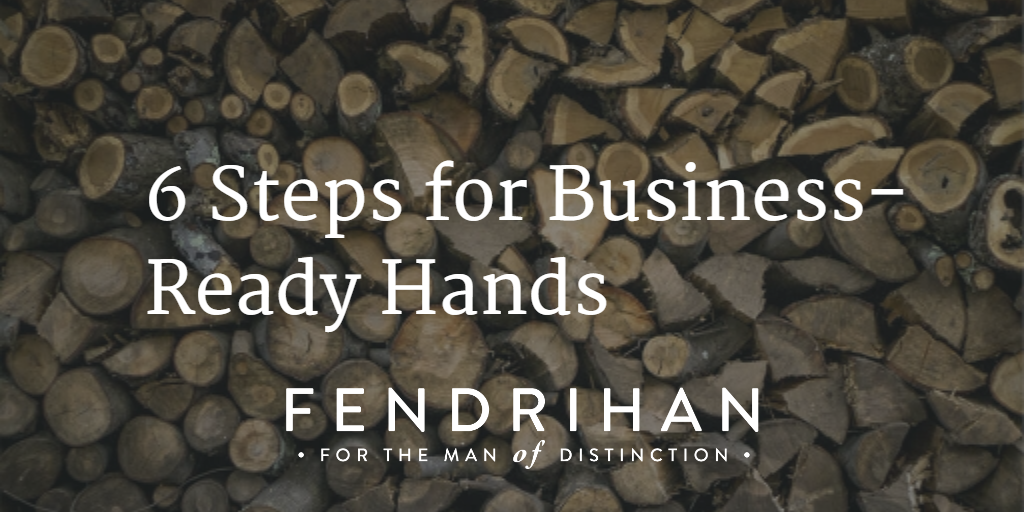 Don't Man-Handle Your Man Hands
You're at the checkout in the grocery store, and the clerk at the cash glances down, her face suddenly in horror: she has seen your hands, and their image is burned on to her retinas. You thought no one would notice such a small detail, such an insignificant sign of your neglected hygiene. I'm afraid it's time to re-evaluate, my friend: Small details are wherein lies the truth. Here are some steps you can take to ensure that your hardworking hands are treated with the level of care that they, and onlooking eyes, deserve:
1. Invest in a Hand & Nail Brush 
In order to do a deep cleansing job, you'll need the proper cleansing tools. If you notice that dirt has accumulated beneath your nails or has ingrained into the surface of your skin, use a hand & nail brush to scrub and scrape it away. The tough bristles are designed to remove any unwanted grime. Try the Olive Wood Hand & Nail brush, made in Germany: it's compact, durable, and it gets the job done.
2. Pull Out the Right Tool Kit: A Manicure Set 
Maintaining your hands involves more than a standard cleansing; You want to make sure that your nails are presentable. After all, your hands are your point of connection with the world. Your nails should be routinely cut and filed, and any unsightly dead skin surrounding them should be removed using fine-point tweezers, nail scissors, or cuticle removers. Hate the idea of owning a cheap manicure set? Go classy and invest in one like Pfeilring's 7-Piece Stainless Steel Manicure Set- it comes equipped with a black nappa leather case.
3. Get Some Hand Cream 
With all the work you'll have put into keeping your hands well-kempt, you won't want to forget the finishing touches: Make sure that you keep your hands sufficiently hydrated. With some good moisturizer, you avoid scaly, cracked skin. For a standard and reliable moisturizer, try Lotil's Original Cream: it's hydrating, and it will leave your skin feeling fresh.
4. Take Care of Your "Wounds" 
Let's be honest: Battle scars aren't cool when they're from a paper cut. Don't forget to practice good hygiene with cuts that show up on your hands; Otherwise, they may evolve into a nasty-looking infection. Keep some hand salve in your bathroom or office drawer. For a good medicated hand salve, try J.R. Watkins petro-carbo salve: it's useful for minor burns, insect bites, and cuts.
5. Find the Right Hand Towel 
When you dry your hands, you don't want a towel that feels like turf. Make your hand drying experience a little more pleasant with a soft, absorbent hand towel. For an especially soft towel experience, try the Uchino Marshmallow Plus Soft Touch Cotton Hand Towel: its Japanese cotton takes softness and pliability to the next level.
6. Make a Habit of Hand-Washing With a Good Old  Bar of Soap 
Now that you've done all the hard work, you need a plan to keep your hands from getting as dirty as they were originally. This means that you need to make a daily habit of hand washing with a good bar of soap. Make sure that the soap you select has a pleasant scent and a moisturizing formula so that you're not sapping your hands of their hard-earned moisture after each wash.
Follow these 6 steps and you'll have the handsome hands you've always wanted.