Straight razors can be complicated tools. You might have been confused by references to a straight razor's spine, tip, tang, scale or edge. We're here to explain everything you need to know about straight razors. We'll have a few blog articles focusing on different aspects of the straight razor. This week's we're taking a look at Point Types.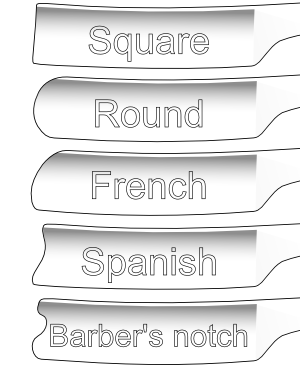 Point type refers to the shape of the blade's tip. There are five standard point types that differ in sharpness and precision. We've compared their major differences in the chart below;
Point Style
Level
Key Features
Recommended
Round Point
Beginner
- Semi-circle shape
- Forgiving point
$ Gold Dollar
$$ Boker
$$$ Thiers Issard
Square Point
Experienced
- Very sharp point
$$ Ralf Aust
$$$ Wacker
French Point
Advanced
- Sharp angled curves
- Mix of round and square point
- Preferred for shaping

$ Gold Dollar
$$ Fendrihan
$$$ Wacker
Spanish Point
Advanced - Expert
- Slightly concave arch
- Extremely precise shaving
$ Gold Dollar
$$$ Wacker
Barber's Point
Expert - Professional
- Precise shaving and trimming
- Rounded point with concave arch
$$$ Rasoir Sabre
Want to learn more?
Download a copy of our ebook – "Mastering an Ancient Art: The Perfect Shave."