There's more to a safety razor than style and handle colour. We're asked many questions about safety razors including materials used, manufacturing process, head type and much more. We've heard from our customers who want more information about blade gaps and blade exposure, and their impact on razor aggressiveness and overall shave. Continue reading below to learn more!
Blade Gap
What is the blade gap? Simply put, blade gap refers to the amount of exposed blade in relation to the base plate, or space under the cutting edge. If you're looking for an accurate reading of the blade gap, you'll have to use a precise tool to measure the area between the blade and the safety bar on the bottom plate. Larger blade gaps indicate a more aggressive shave while smaller blade gaps usually mean milder shaves.
Open or closed comb razors have standard blade gaps. With adjustable models, the blade gap changes as the dial changes from more aggressive to less aggressive or vice versa.
BRAND
MODEL NUMBER
BLADE GAP
Closed Comb Safety Razors
- Muhle
- R89
- 0.45 mm
- Merkur
- 23C
- 0.64 mm
- Merkur
- Edwin Jagger
- 34CHD
- DE89
- 0.71mm
Adjustable Razors
- Rockwell
- Rockwell 6S (R1)
- 0.20 mm
- Rockwell 6S (R2)
- 0.35 mm
- Rockwell 6S (R3)
- 0.48 mm
- Rockwell 6S (R4)
- 0.61 mm
- Rockwell 6S (R5)
- 0.69 mm
- Rockwell 6S (R6)
- 0.79 mm
- Merkur
- Futur (1)
- 1.12 mm
- Futur (4)
- 1.47 mm
- Futur (6.5)
- 1.75 mm
Blade Exposure

Blade exposure refers to the degree of exposed blade when placed between the top and base plates. The higher the blade exposure, the more the blade is exposed to skin, and the more aggressive a shave will be.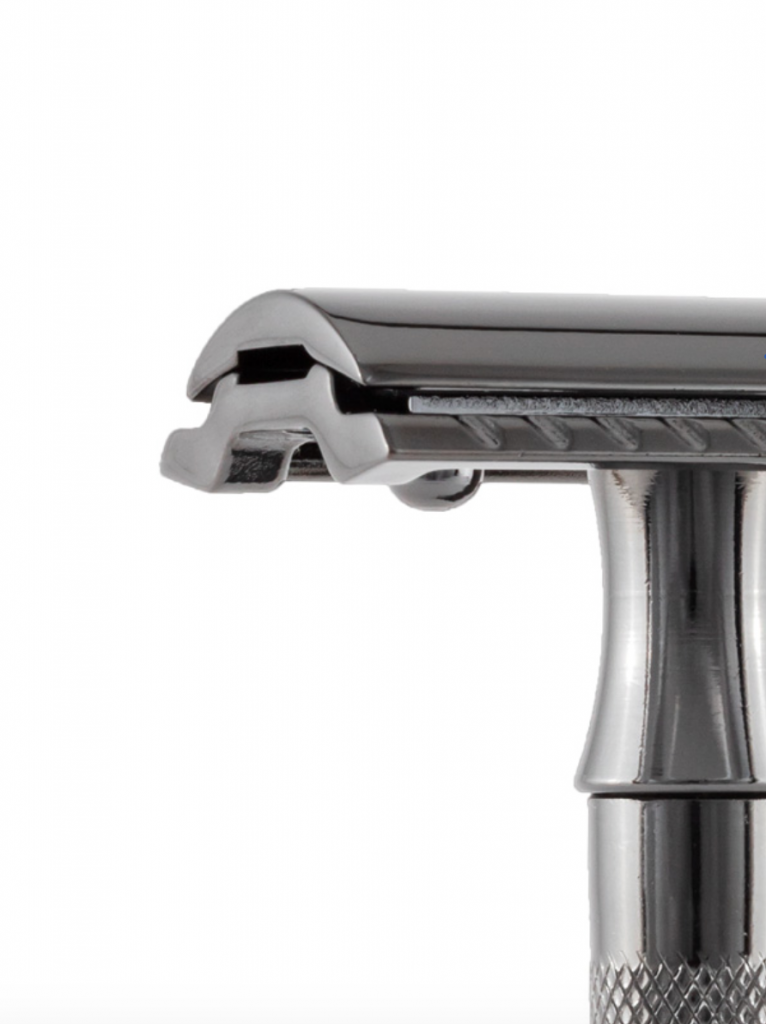 Both blade gap and blade exposure will affect the aggressiveness of the razor. Depending on what you're looking for in a safety razor, you may want to take a closer look at the blade gap and exposure before making a final decision.
Have more questions? Reach out to us at customerservice@fendrihan.ca or customerservice@fendrihan.com!
NOTE
Information and figures were taken from the Badger & Blade Blog. *